BT Camp facilities will be open to BT Camp Families, Beth Tfiloh Synagogue members & Beth Tfiloh School Families.
Activities Included:
• Three open pools including PODS and Splash Pad!*
• Boating and The Big Slide at lake
• Archery, Gaga and Playground
Children under 17 years of age require a parent
or guardian (includes grand-parent, nanny, or babysitter).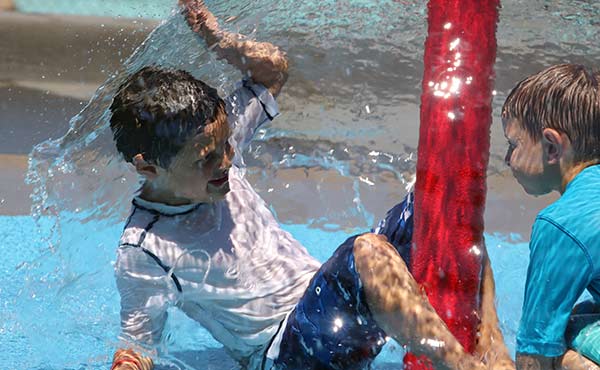 FIRST COME FIRST SERVE
Space is limited based on local and state social distancing policies.
BT Family Camps will be closed on Wednesday, August 19, Thursday, August 20, Tuesday, August 25, Wednesday, August 26 and Thursday, August 27.
Facility Hours
Program open only to BT Camp Families, Beth Tfiloh Synagogue members and Beth Tfiloh School Families.
Facility Open
• Friday, August 28 – Open 10:00am – 3:00pm
• Sunday, August 30 – Open 11:00am – 5:00pm
Facility Closed
• Tuesday, August 25
• Wednesday, August 26
• Thursday, August 27
FEES
$25.00/day per car (up to 6 people per visit)
We will allow the following:

Lap swimming in our lap pool
General swimming in our big pool
Swimming in our Pod pools
Swimming and boating at the lake
Swimming and boating and Water Trampoline ("The Rave") at the lake.

Splash Pads and slides will not currently be in use. This may change as we move through the summer months.

Beginning MONDAY JUNE 22nd, our hours of operation will be;
Monday through Thursday, 11:00am – 5:00pm
Sundays 11:00am – 5:00pm
Closed Fridays and Saturdays.

Any pre-registered adult, nanny, babysitter or grandparent with child(ren). Activities and all facilities are available to BT Camp families and BT Synagogue members only.

No, seating and lounge chairs will not be available. Therefore, please bring your own chairs, blankets and any other type of seating.

The bathhouses will be open in a very limited fashion, and we do recommend that all guests arrive wearing their swimsuits and do all changing at home.

To ensure the safety of all, BT Family Camp will not be providing any equipment for guest use. Guests must bring any equipment they plan to use, including kickboard, pull buoys, noodles, and goggles. BT will provide lifejackets for usage at the lake which will be cleaned and sanitized after each use.

Arrival and check-In will be available 15 minutes prior to opening. You will be met at the front gate by BT Family Camp staff who will direct you to the parking area. Signs will then direct you to the swimming pool area down the hill where you will check in with our Welcome Desk. Because of the precautions we need to take during your check in process we recommend that you give yourself and your family at least 15 minutes before you'll be able to enter the pool area.

You must always arrive wearing a mask and you will be directed to stand a minimum of 6 feet away from others. We will be taking your temperature. It must be under 100.4◦ (f) for you to proceed. Next, we will ask you several health questions to help minimize the risk of spreading COVID-19 to other guests or staff. After going thru this process, you will receive a wrist band that you must wear for the remainder of your visit.

During check-in, you will need to sign a waiver which can be found here… We will also have this available upon arrival.  After you have been cleared to swim, a staff member will direct you to where to set up your personal belongings, using our social distancing guidelines.

At each visit members will be asked questions about potential COVID-19 symptoms, contact with people who are or may be COVID-19 positive and travel history in the last 14 days. People who have traveled outside the state in the last 14 days, been in contact with a COVID-19 individual, answered yes to any of the potential symptom questions or a temperature above 100.3 degrees will be denied access.

The aquatics staff and maintenance staff will be cleaning and sanitizing the pool area and pool equipment and high touch point areas every hour as designated by our cleaning protocols and cleaning schedule. The pool area, lake area and all high touch areas will be cleaned at the end of every day by our housekeeping staff. The facility will be closed on Friday's for a thorough cleaning. Our facility and aquatics staff will be using disinfectant sprays & wipes, and they will be continually wiping down the rails and ladders at the pools.
Masks must be worn by everyone when arriving at BT Family Camp for check in. Masks are not needed while in the pools or lake. Guests must wear a mask until ready to enter the water and will be asked to put their masks back on immediately after exiting the water.

At check in we will require a minimum 6' of distancing between individuals. When on the pool deck, patrons are required to maintain physical distancing and should not move any of the deck furniture.

Guests who do not abide by the policy will be reminded by staff to maintain 6' of distance from other members and staff. Those guests who continue to not abide this policy will be asked to leave.

Our bathhouses will be available for limited use. Due to health concerns, we will not have water fountains operational. Please bring a filled water bottle to keep hydrated. We will be selling bottled water. Signage at the bathrooms will ask guests to limit the number of people per bathroom facility. Bathrooms will be continuously sanitized throughout the time we are open and after each session.

While there will be limited staff on our campus at any one time, they will also have temperatures checked and answer our health questionnaire at the check-in tent at the beginning of each shift. All staff will be required to wear a mask at all times. Each guard will have their own rescue equipment that will be sanitized daily.

The Director of BT Camps will monitor the weather at all times. If the forecast is for inclement weather in the area, BT Family Camp reserves the right to cancel activities for part or all of the day. In the event of inclement weather, guests should call 410-517-3451 for the latest update.

In the event that an inclement weather occurs while we are open for activities, guests will be directed to go directly to their car where they can decide to wait it out or go home. There will be no congregating in the bathhouses, or in the parking lot and no access to building

First it is imperative that staff and members accessing our outdoor facilities notify us as soon as possible about their positive test so that we can shut down our operations. At that point, our facility will be disinfected again and staff and members who were present when the individual was on site will be notified as well as local health officials. BT Family Camp will evaluate a re-opening date, based on cleaning protocols needed, contact tracing results, and CDC and Baltimore County Health Department guidelines.

A BT staff person will be at the front gate during all hours that the BT Family Camp is operational. Additionally, the local authorities will be notified as to the BT Family Camp. All of our lifeguards are CPR/First aid Certified. First Aid Kit and AED will be readily available. And we will have a registered nurse on-site every day.

A security guard will be present at all hours that the BT Family Camp is operational. The local police and fire stations will be notified as to the BT Family Camp. At minimum 1 staff person on site will be CPR/First aid Certified. First Aid Kit and AED will be readily available.

Yes, you will be allowed to bring your own food, however, the food must be kosher, and may only be eaten in our Ulam on the upper field area. We will also provide pre-packaged snacks, bottled water and other bottled and can soda.
In the spirit of community and collaboration, thanks to the JCC of Greater Baltimore for their partnership in sharing protocols and procedures to ensure we are all opening safely for our extended Jewish community.
FIRST COME FIRST SERVE
Space is limited based on local and state social distancing policies.